Exchange Printers is affiliated with Office National which is one of the largest independent business to business provider of office products in Australia.
We are able to offer you the combined value of local expert knowledge and the benefits of our national buying power. Exchange Printers is one of the largest stationery/office furniture dealers in the South East. We also have a comprehensive online ordering store.
Exchange Printers have been commercial printers here in Mt Gambier for over 100 years. We cover a widespread area that sees us with clients in South Australia and Western Victoria. We print everything from A4 & A5 letterheads, all kinds of envelopes, with compliment slips, business cards and all business printing from duplicate, triplicate, quadruplicate books such as, quotation books, statement, invoice, receipt & order books and pads, canvas banners, wind flags and pull ups.
We also have an extensive range of I.T. products from high end A3 Colour Photocopiers, Point Of Sale systems, Phone Systems, right down to your basic home printer needs. Our Service Department, have the ability to install/ repair and maintain service to computer systems, phone systems, photocopiers, and point of sale systems.
---
2000+
printing jobs each year
1000+
office products in store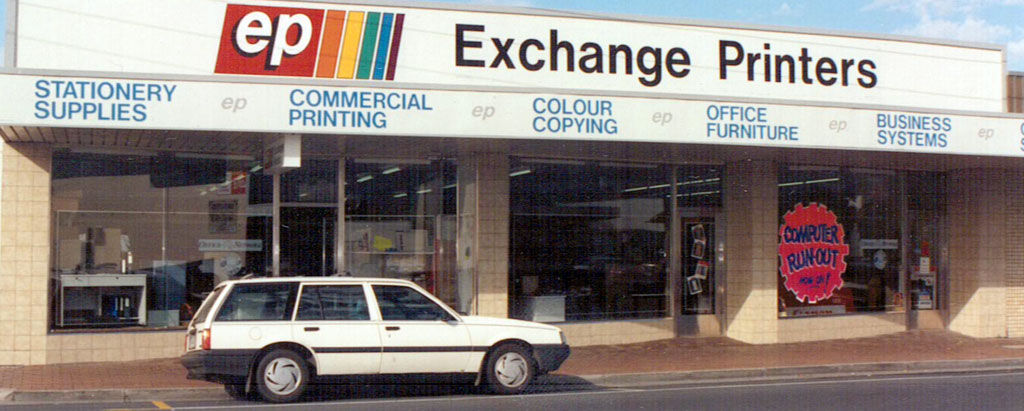 ---
Our History
Exchange Printers is and has been an important part of Mount Gambier's history. The many staff have all contributed to helping it become an iconic business in Mount Gambier.
The camaraderie existing among the staff is a proud record. Of the 371 employees who over the years have helped the Company achieve its goals the average length of service is outstanding with some in excess of 20, 30, 40 and 50 years.
In 1914 Alf Clark purchased the business known as The Exchange Printing Works, a printing business which also published a weekly free paper. Before the advent of mechanical typesetting it was tediously handset. Every single letter of type was assembled in a composing stick and the pages of the paper were locked in a chase to be printed. After printing, all the single pieces of type had to be distributed back into their respective boxes to be used again. A labour intensive operation.
After leaving school Alf Clark joined Mount Gambier's second newspaper, 'The South Eastern Star', and assisted in the first issue in October, 1877. He remained with 'The Star' for many years, managing the business for Mr. J. T. Morris and later becoming proprietor of the paper. He eventually sold the SE Star to Mr. F. H. Rischbieth and purchased The Exchange Printing Works in 1914. When the SE Star ceased publication in 1927, he purchased the plant and relocated it to Percy Street.
Alf Clark died in 1931 and his daughter Millie Clark took over the management. After leaving high school in 1935, Ross Clark joined the business and started on the princely sum of ten shillings a week - $1.00 in today's currency.
Ross Clark had visions for the future and wanted to take the business over but the family would not hear of it. In 1939 they did allow a partnership between Ross Clark, aged 19, and Mel Hosking, a senior and valued employee.
When the Japanese entered the war Ross Clark enlisted in the RAAF and after training, graduated as a pilot. Due to the enlistment of Ross Clark and another staff member, Keith Moody, the staff were so depleted that 'The Exchange' free paper ceased publication. The war years saw Mel Hosking carry on with a staff of two. After the war ended it was back to peacetime jobs. It was a difficult time settling back.
In Ross Clark's time in the Air Force he had to think of the future, and to continue with hand fed presses was not an option. He convinced his partner that they should invest in the new automatic presses which Mel agreed to do and so modernise the plant.
The premises occupied were far from adequate, and in addition Ross Clark had a vision for the future direction of the business. He thought that printing, stationery, office machines and maintenance all went well together. This would require new premises incorporating a retail outlet and would also require a financial commitment.
When the proposition was put to his partner there was an emphatic no. He was not prepared to seek outside finance. A stalemate eventuated and as a consequence the partnership was dissolved by mutual agreement in 1953. This left Ross Clark as the sole proprietor with the freedom to plan for the future. To his credit Mel Hosking stayed with the business and made a valuable contribution in helping Ross Clark bring his vision to fruition.
Land was purchased in James Street. Building new premises took place and was completed in 1957 and opened for business on 18th October that year. Ross Clark's vision had finally materialised. After a few years it became obvious that larger premises were needed. Adjoining land was purchased and building extensions got under way and were completed in 1971.
This virtually brought Ross Clark's vision to its conclusion as Exchange Printers now had a building and facilities to function as an integrated business in the field of printing, stationery, office machines and office machines' maintenance.
During the 100 years that Exchange Printers has been operating there have always been name changes, but it has always been solely in the Clark family, with the exception of the period 1939 to 1953 when it was a partnership but with a Clark involved.
In 1991 Exchange Printers purchased the commercial printing business of The Border Watch after they decided to cease commercial printing to concentrate on consolidating their newspaper publication.
A company name change occurred when Exchange Printers became shareholders in Office National, a newly formed company to service our industry and as a consequence had to incorporate the name in its own. So Exchange Printers' name now became Exchange Printers Office National. Office National's buying power has allowed Exchange Printers be able to service their clients with the best office equipment at the best prices.
The years have advanced and changes have dramatically taken place. The hot metal and hand assembled type era for print had been taken over by the computer. Over this transitional period, Exchange Printers has met the challenge and invested in new equipment to keep up with the changing print world. Digital printing is now taking over in many areas and in keeping up with rapid changes Exchange Printers has installed one of the latest digital presses which can produce colour printing on demand. Exchange Printers has always adapted to change and has kept abreast of world development in print.
On two occasions Exchange Printers has attended the world's biggest printing trade fair held every five years at Dusseldorf in Germany to keep informed of the latest technologies in print.
Although print is important to the Company, so are the other divisions which are growing and demonstrating that our stationery, office equipment and office machines sales and service are all fulfilling a need in Mount Gambier, the Limestone Coast and the Western District of Victoria.
Exchange Printers is proud of its long record of 100 years in business.